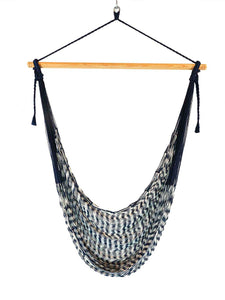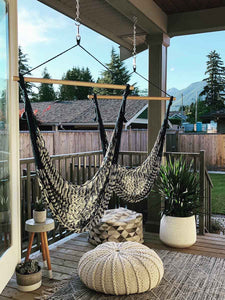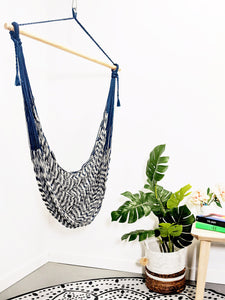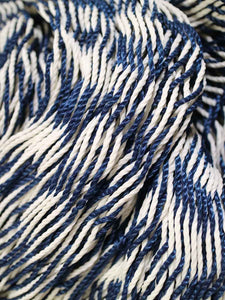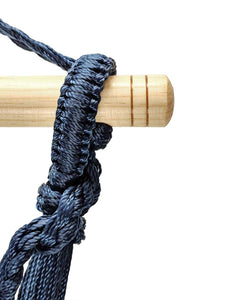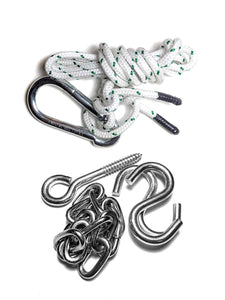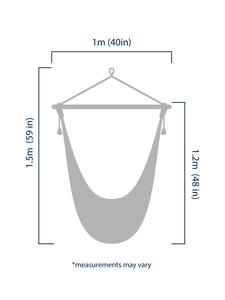 Thick Hangout Chair - Nautical
Stretches out over 6 FEET for even the tallest humans
100% hand woven by skilled Mayan weavers from the Yucatan
Woven with extremely soft nylon for that luxury feel
Water resistant

 

yarn for durable moisture resistance
Use upright as a chair or full stretch out and lie down

No flip

 

single point hanging hammock chair design.

Buy 1 Hammock. Plant 1 Tree. Find out more 

HERE
Details
Shipping & Returns
$25

anywhere in North America in 3-10 business days



Not in North America? Contact us via email

 to get it shipped!

We have a 14-day return policy. Find out more

 

HERE
This is a hand made product and needs to be handled with care
Call us

 

TOLL FREE

 

at 

+1-866-623-3477
Quality
Our hammocks are hand woven in the Yucatan province of Mexico and support the Cielo Foundation.
They are Fairtrade and a certified B Corporation
These are the best!
I remember sitting in these a booth in 2019 for Lululemon Seawheeze. I wanted one then but didn't have a way to transport it back. I finally pulled the trigger and ordered two for our mountain home. Immediately I wondered what took me so long. They are beautiful, super comfy and easy to install. We've had so many friends and family purchase their own after sitting in ours! We love them so much that I purchased two more for our other house! Don't wait, these are amazing and worth every penny! And as an added bonus mine came with the sweetest personalized message thanking me for supporting their small business!!
Very nice bit of kit
I first discovered these at my son and his partner's house in Scotland, more specifically in their garden. Kirsty said she picked hers while in Vancouver (I think?). Anyway I found it extremely comfortable so I had to get my own. Now mine hangs in my garden in the North Yorkshire Moors National Park. I bought extra carabiners which I suspend at different sites around the house and garden. It's then very easy to move the Hangout wherever I choose.
Best purchase
On a recent trip to Vancouver we happened by your store front and my kids sold me hard on how much we needed this chair. I don't think the salesman had to say more than "Have a seat!" I have a bad back so was sceptical but this chair is a dream to sit in and I think I'm getting more use out of it than my kids. Thanks!
Gift
Hi! It's a gift so we haven't opened it yet but I am sure it will be amazing like all of the other hammocks you guys have :)
Hamuhk Chair
I ordered a Thick Hangout Chair - Nautical from you on May 26th, and I received on May 30th at 1450 gm!
I am impressed with how fast the shipment went between Vancouver and Tønsberg in Norway.
I bought a thin hangout chair from Hamuhk on Granville Island while living in Vancouver 2004-2005. This one is still in use, but I wanted an extra one to make sure I was suddenly not without it. Love to lie in it to read and rest. No summer day without !!! They are absolutely wonderful to lie in, feel like I'm floating🤩