Since 1995
The only hammock shop in Canada.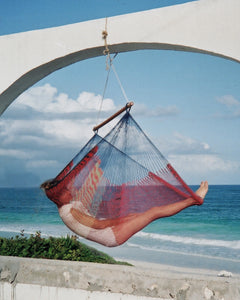 The Concept
In 1989 on a visit to Costa Rica, Mal & BA Holtby, first saw the concept of a hammock that was configured to perform just like a chair, instead of the more traditional two point style. Woven with a thick cotton twine, a curved back,  separated by a wooden spreader bar and hanging from a single point above.
We brought the idea to the Yucatan peninsula in Mexico, where we had already established business with a number of the finest hammock weavers. We increased the length of the net, so that it was long enough to accommodate the entire body - giving support from head to toe, as in a traditional hammock. Also, switching the traditional cotton cord for nylon thread which increased strength and weather resistance. 
25 years since our initial conception and version of a chair hammock, The Hangout Chair, the style has become ubiquitous throughout the Yucatan, and indeed, most of Mexico. There is not a hammock manufacturer in Yucatan that does not offer their own version of the chair hammock as part of their range - and of varying quality.
Mal & BA Holtby
The original owners & current hammock mentors to Hamuhk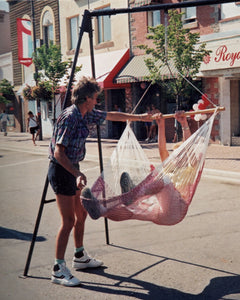 The Hangout Place
Armed with our first shipment of samples, Mal & BA started booking space at various Boat Shows, Garden Shows and Craft Fairs, and soon realized that we had a very popular item! Everyone who sat in our chair commented on the weightless feeling of comfort they experienced - both sitting or fully reclining.
Their business was expanding, and in 1995, they opened their first permanent 'Little Shop of Hammocks' on Railspur Alley on Granville Island in the heart of Vancouver. Three years later they expanded into the present location, 'The Hangout Place', on Duranleau Street in Granville Island.
This new space allowed them to expand the range of hammocks to include the more ornate cotton hammocks from Nicaragua, Brazil, and Colombia as well as our Nylon Parachute hammocks from Bali.
The Hangout Place hammock shop is still operating on Granville Island to this day, and has now been passed on to two new hammock lovers who want to make the world a better place one hammock at a time.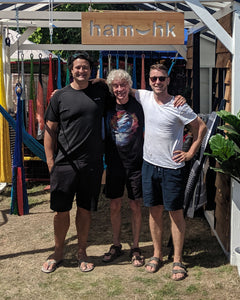 Hamuhk
After 25 years of running The Hangout Place on Granville Island Mal & BA Holtby are retiring and passing the torch to a new generation of hammock lovers, Colin & Brandon. Two Vancouver locals with a love of hammocks and a long history on Granville Island.
Colin was gifted a Hangout Chair from that very same hammock shop on Granville Island for his 21st birthday. Two of his close friends worked at the shop at the time and did for many years after that. He fell in love with hammocks and 15 years later is now buying the shop and continuing their hammock legacy.
The same passion for hammocks and the community will allow this small successful hammock business to survive the next generation in Vancouver. Support for small businesses is the back bone of Granville Island and we will be there for the hammock community.
Why HAMUHK?
We chose our name based on the phonetic sound of the word hammock and because we all know that hammock.com was already taken.
Hammock [ham-uh k] or / (ˈhæmək) /noun
hanging bed, chair or couch made of canvas, netted cord, or the like, with cords attached to supports at each end suspended off the ground.