Buy a Hammock. Plant a Tree.
Hammocks Need Trees
As a hammock store we rely on the 3 trillion trees scattered across the globe. We want to keep hanging our hammocks in back yards, beaches and forests for generations to come.
We receive hammocks from Mexico, Brazil, Columbia and Bali and send hammocks all over North America. We recognize the impact we have on the globe and want to do everything on our power to offset that.
As of February 2022 every single product sold online, and in The Hangout Place on Granville Island in Vancouver, will plant a tree. If you buy 2 hammocks, we plant 2 trees; buy 10 hammocks, we plant 10 trees. It really is that simple and want to keep it that way.
We pay for every tree and this comes at no hidden cost to you. This is all automatically handled by us in order to make sure that every hammock we sell has a tree to hang from in the future.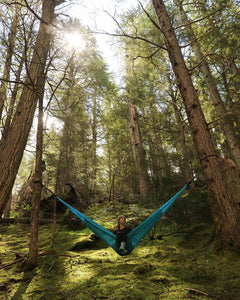 Partnered with Eden Projects
Sustainability and environmental impact is important to us as a hammock company. It can be difficult as a small business to find the right partners to scale your sustainability and offset our carbon footprint. That is why we have chosen to use Sprout.
Our store uses Sprout powered by The Good API. This connects every sale to the ‍Eden Reforestation Project which is working to restore healthy forests and reduce poverty by employing locals to pant millions of trees per year.
Buy a hammock. Plant a tree.