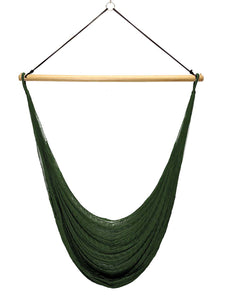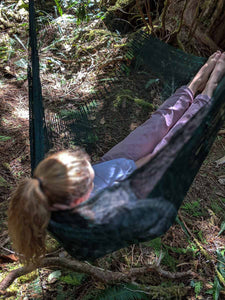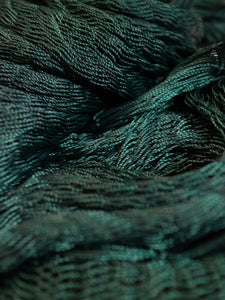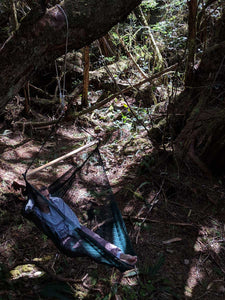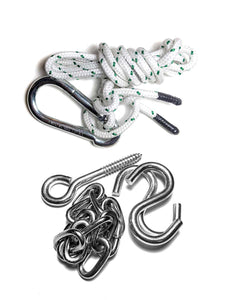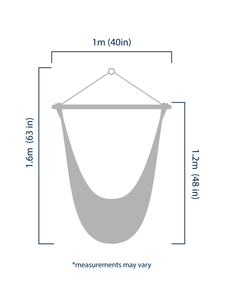 Thin Hangout Chair - Evergreen
Stretches out over 7 FEET for even the tallest humans
100% hand woven by skilled Mayan weavers from the Yucatan
Woven with extremely soft thin nylon for that luxury feel
Water resistant

 yarn for durable moisture resistance

Use upright as a chair or full stretch out and lie down

No flip

 

single point hanging hammock chair design.

B

uy 1 Hammock. Plant 1 Tree. Find out more 

HERE
Details
FAQ
How is the Thin Hangout Chair different from the Thick Hangout Chair?
The hammock is more compact, light weight and can stretch out further
There are no knotted details on the spreader bar for ease of use
I

t uses a finer yarn and a delicate tighter weave requiring more care



I already have a Spreader Bar and only need the hammock net. What do I do?
Just buying the net is

 

$99

 

and comes with no additional hardware.

At checkout. Use the discount code

 

NETREPLACEMENT01
Is this hammock safe to leave outside all year?
Outdoor water resistant yarn won't mold like cotton or stretch out over time

We recommend you bring your hammock indoors when not being used
Keep out of direct sunshine, as UV light will break down yarn eventually
Shipping & Returns
$25

anywhere in North America in 3-10 business days



Not in North America? Contact us via email

 to get it shipped!

We have a 14-day return policy. Find out more

 

HERE
This is a hand made product and needs to be handled with care
Call us

 

TOLL FREE

 

at 

+1-866-623-3477
Quality
Our hammocks are hand woven in the Yucatan province of Mexico and support the Cielo Foundation.
They are Fairtrade and a certified B Corporation
Thin Hangout Chair - Evergreen
Amazing quality
Make sure you have it properly hung up. I recommend getting the hook and rope method to hang it from a tree! I was really excited to hang it up Inside my apartment when getting back to Whistler. I finally convinced my boyfriend to hang it for me and lets just say.. get yourself a stud finder... that works because falling for how high I fell from onto a tile floor hurts.. I literally couldn't breath! But like I said the chair is great quality because it's still perfectly fine after the entire hook and set up fell from the ceiling! Definitely ask for help when buying supplies at your local hardware store!
Definitely interested in getting another Bali style hammock for the summer and more for a hiking gadget!