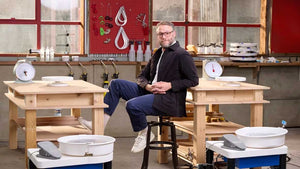 Drawing from a vibrant local arts scene that I've been immersed in from my Arts Umbrella days to the creative hub of Emily Carr on Granville Island, I'm thrilled to share some exciting news that hits close to home—quite literally, around the corner from our little hammock shop.
The Canadian Broadcasting Corporation (CBC) is introducing "The Great Canadian Pottery Throw Down" in winter 2024. This new reality series, inspired by the successful British show "The Great Pottery Throw Down" now in its seventh season, will showcase the talents of ten of Canada's most skilled potters as they compete to be crowned the best at the wheel​. The show was shot in the old North Emily Carr building on Granville Island, the starting place of many pottery careers.
What amplifies the excitement for this series is the involvement of celebrated personalities. Jennifer Robertson, known for her role on "Schitt's Creek," steps up as the host, bringing her charm to the pottery wheel​. Meanwhile, Seth Rogen, a Vancouver native who has made a name for himself far beyond our rainy city, is set to appear as a guest judge and executive producer, bringing a touch of star power and perhaps a hint of his well-known humour to the proceedings​.
"The Great Canadian Pottery Throw Down" will be broadcast on CBC and its streaming service, CBC Gem. This addition is sure to stir up the local art community and, I dare say, bring a new level of interest to pottery—a craft that many of us on Granville Island hold dear! 
We can't wait to watch the new show and celebrate Granville Island!
Follow the show on Instagram