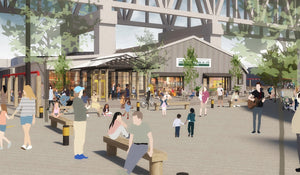 You may have noticed that it has been harder to find parking on Granville Island these days. No, it's not more cars, extra tourist or the construction crews working on the Granville Street Bridge.
It's the old, but new Chain & Forge building currently under construction.
The building is situated exactly beneath the Granville Street Bridge and next to the public market, making it a prominent location that is visible from Granville Island's Anderson Street entrance.
Granville Island's general manager, Thomas Lancaster, claims that this is the first significant renovation that CMHC has attempted in decades.
Prior to the pandemic, the majority of this structure was utilized as an indoor public parking lot for cars, with a small section of the building at the northwest corner which housed Edible Canada for fifteen years. In 2021, this space was replaced by the Alimentaria Mexicana restaurant.
Here are some before photos and artist renderings:
This will add about 9,000 sq ft of new retail and restaurant space usage. Up to seven new additional unique businesses will be added to Granville Island.
The building used to be a chain factory during Granville Island's industrial uses before CMHC's 1970s transformation of the island into a unique arts and cultural district. It was most recently used as a covered parking space and is expected to reach completion by early 2024. 
Soon after that it will be free to fill with brand new businesses unique to Granville Island. Filling up the space with wonderful one of a kind business like the ones that already exist such as The Broom Company, Provence en Couleur, or our very own Hammock Shop!
A sizable public plaza with patio tables and event activation will replace the former outdoor parking lot directly to the south of the building.

The building will include a covered outdoor public walkway running north-south between Johnston Street and the new public plaza, in addition to the additional shop and restaurant facilities.
Hotson Architecture and the Office of Mcfarlane Biggar Architects & Designers collaborated on the building's new look.
The 2017 Granville Island 2040 plan, which included repurposing buildings and parking lots for more active uses, identified the new and improved building uses to create the Chain & Forge building as a priority project. The plan aims to greatly improve Granville Island as a destination for both residents and tourists.
Come apply to be one of our new neighbours!