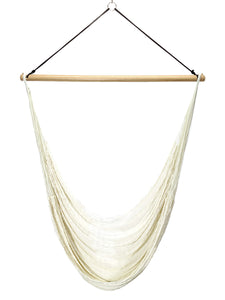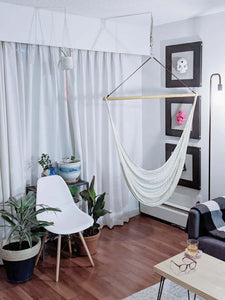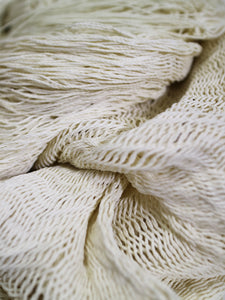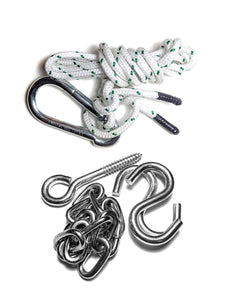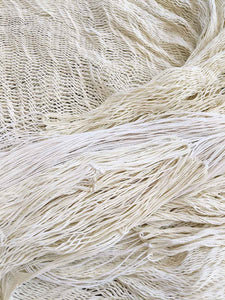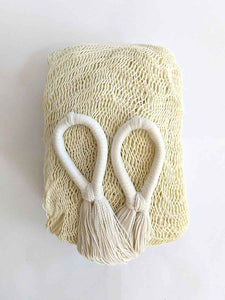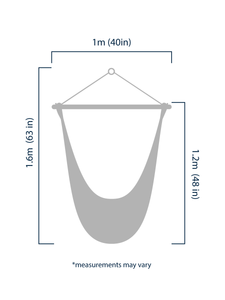 Thin Hangout Chair - Natural
Stretches out over 7 FEET for even the tallest humans
100% hand woven by skilled Mayan weavers from the Yucatan
Woven with extremely soft thin nylon for that luxury feel
Water resistant

 yarn for durable moisture resistance

Use upright as a chair or full stretch out and lie down

No flip

 

single point hanging hammock chair design.

B

uy 1 Hammock. Plant 1 Tree. Find out more 

HERE
Details
FAQ
How is the Thin Hangout Chair different from the Thick Hangout Chair?
The hammock is more compact, light weight and can stretch out further
There are no knotted details on the spreader bar for ease of use
I

t uses a finer yarn and a delicate tighter weave requiring more care



I already have a Spreader Bar and only need the hammock net. What do I do?
Just buying the net is

 

$99

 

and comes with no additional hardware.

At checkout. Use the discount code

 

NETREPLACEMENT01
Is this hammock safe to leave outside all year?
Outdoor water resistant yarn won't mold like cotton or stretch out over time

We recommend you bring your hammock indoors when not being used
Keep out of direct sunshine, as UV light will break down yarn eventually
Shipping & Returns
$25

anywhere in North America in 3-10 business days



Not in North America? Contact us via email

 to get it shipped!

We have a 14-day return policy. Find out more

 

HERE
This is a hand made product and needs to be handled with care
Call us

 

TOLL FREE

 

at 

+1-866-623-3477
Quality
Our hammocks are hand woven in the Yucatan province of Mexico and support the Cielo Foundation.
They are Fairtrade and a certified B Corporation
Terrific
I've had my first hangout for 10+ years. I finally had to order a replacement net. What a great place to spend a summer afternoon in the shade. Ordering was easy and the service was great.
Excellent Service
We received the hammock in just a couple of days! We really appreciated the store owners knowledge of possible issues when taking with on a plane and recommended shipping instead. We already have one Hamuhk which is still in excellent condition after 10 years. Bought this one for our daughter.
The BEST!
This is the third Hangout chair I've owned. They are great quality, durable, and so amazingly comfortable. I have tried a couple other brands of hammock chairs and they don't begin to compare. I would consider the Hangout chair a "must have" in my life from here on out.
Great service and easy to find something awesome!
Great product and service. Easy install
Love the product - it's well made and the thin one is light and sturdy. The knowledgable staff provided great service with fast and thorough responses including tips on how and where to mount it. Installing it was straightforward with the right tools - you need a stud finder, drill and 1/4" drill bit - they provide all the hardware you need to mount it and it installed in less than 10 minutes. My daughter loves it and basically lives in it whenever she's in her room.