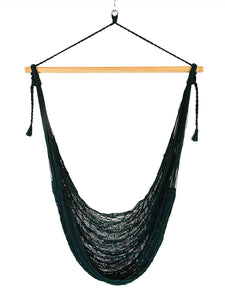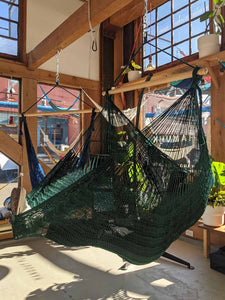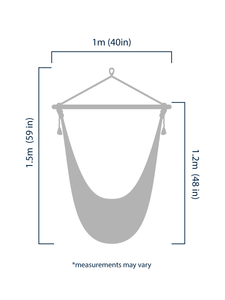 Thick Hangout Chair - Evergreen
Stretches out over 6 FEET for even the tallest humans
100% hand woven by skilled Mayan weavers from the Yucatan
Woven with extremely soft nylon for that luxury feel
Water resistant

 

yarn for durable moisture resistance
Use upright as a chair or full stretch out and lie down

No flip

 

single point hanging hammock chair design.

Buy 1 Hammock. Plant 1 Tree. Find out more 

HERE
Details
Shipping & Returns
$25

anywhere in North America in 3-10 business days



Not in North America? Contact us via email

 to get it shipped!

We have a 14-day return policy. Find out more

 

HERE
This is a hand made product and needs to be handled with care
Call us

 

TOLL FREE

 

at 

+1-866-623-3477
Quality
Our hammocks are hand woven in the Yucatan province of Mexico and support the Cielo Foundation.
They are Fairtrade and a certified B Corporation
The best!
Received a hangout chair as a wedding gift and fell in love with it. It was the thinner style one but sadly one my nephews put his foot through it and it ripped. So I replaced it with the thick version. It seems indestructible and it is the most beautiful Green colour. We love it!!!
AMAZING!
My husband and I bought our first Hamuhk from you guys many years ago. It was the Thin hangout Hamuhk chair... it was wonderful. It was time for a refresh so we bought the Thick hangout Hamuhk chair this time round and I have to say it also is fabulous. The fabric is wonderful. I would 100% recommend these.
Happy customer
LOVE my hangout chairs. We bought one replacement net for a chair we purchased several years ago, as well as a new thick hangout chair. Customer service via email was great in answering our questions; chairs were delivered within a couple of days. I would recommend this company - great quality, great service, wonderful product.