Hanging Height & Distance
Do you need to know how much space you need for hanging your Lounger Hammocks or Brazilian Hammocks?
Use this guide as a tool to help figure out the space required for hanging your hammock between two points.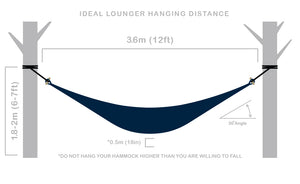 Hanging Indoors
There are multiple ways to hang your hammock indoors. Make sure you find a support beam in your ceiling or walls that can support your weight. Our Lounger Rope Kit that comes with your hammock gives you multiple options.
*If unsure how you to hang your hammock, please consult a professional.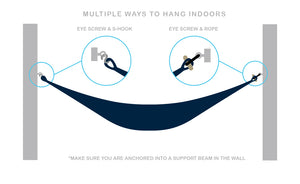 From the Ceiling
There is always a few ways to hang your hammock inside. It is possible to hang your Lounger Hammock from the ceiling as well.
The placement of your eye screws needs to be much further apart than when hanging from walls.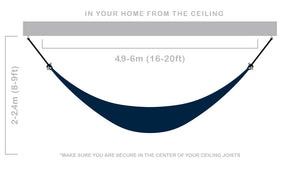 Between Trees
Find two solid living trees big enough to support the weight you need. Use the two pieces of rope & dowel in your Lounger Rope Kit.
Wrap the rope around the trunk at least twice so your rope does not slide down your tree. Loop through the pre-tied bowline knots for a secure hold and hang at the desired height.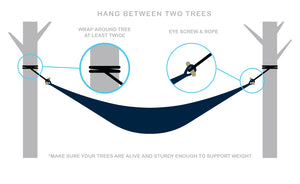 Hammock Stands
If you don't have anywhere to hang from you can always get a hammock stand. These come in various shapes, sizes and materials. Not all hammock stands are made equal or fit all hammocks.
Our Lounger Hammocks were designed to fit the 9 or 10ft Universal Hammock Stand.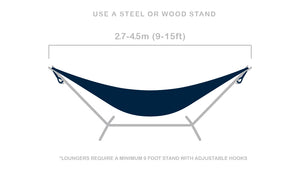 Securing Your Thick Hangout Chair
The Thick Hangout Chair is secured to the wooden spreader bar by half hitches. Pleasure ensure that these knots must be tied for safe use of your hammock.
Periodically check these knots after prolonged use of your hammock and they may loosen with time and daily use of your hammock.
Many other factors affect safety: types of materials; age, size, and condition of the hammocks and rope; and the accuracy with which knots have been tied. No responsibilty is accepted for incidents arising from the use of our hammocks. Please enjoy them responsiblity and safely.