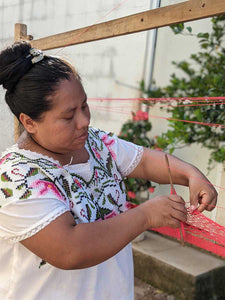 A Traditional Mayan Craft
A hammock is a sling which is made of fabric or netting and a rope, that can be suspended between one or two points and used for swinging, sleeping or resting.
Traditional hammocks originated in Central America, and can be traced back nearly 1,000 years ago to the Mayan civilization. Early hammocks were woven from the bark from a hamack tree; this was replaced by sisal fibres as they were more abundant. Now they are made with softer materials like cotton, nylon or polyester. The hammock weaving method has incredibly stayed the same.
The hammocks are more with a diamond-like threading which gives each hammock a comfortable weave, providing durability and ventilation. It can take from one to two weeks to hand weave a hammock depending on its size.
Weaving hammocks is an irreplaceable part of Mayan culture and history, passed along from generation to generation of Mayan women.
Hammocks are so symbolically and culturally important for the Yucatecans that even the most humble of homes have hammock hooks in the walls.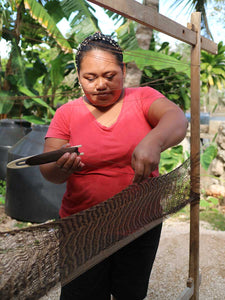 It takes a village
We have been working with families in Mexico for all of our Mayan hammocks since 1989. Originally working with 1 family and slowing selling more hammocks over the years, we have now grown to work with over 800 weavers.
Southern Mexico is on of the most impoverished regions in the country and we are committed to making a difference one family at a time. This is why your purchase is so important to us as we continue to buy hammocks from more families.
All of the weaving is done in Yucatan, Mexico. Many them are made in Teabo and the surrounding villages with a shop in Merida.
We are committed to the social development of Mayan communities, especial women, who represent 90% of the weavers in our network who work from home. Women who weave hammocks at home earn their wages during their spare time while also caring for their children.
Our most popular hammock, The Thin Hangout Chair, is made exclusively for our little shop on Granville Island is only made by 30 highly skilled master weavers and has been for the last 15 years.